The Federation's Bank Account details
Through the old and grey concrete of every day routine, a new flower of Eternal youth and romanticism is growing. It is a Warrior of Light. For the first time in Russia, the All-Russia Yun Chun Quan (Wing Chun) Federation has been established. In translates as Eternal Spring'. It is for those of us who are close to the Light, who have fair ideals, who yearn for a Revival of the Human Spirit', and for those who feel a calling for the development and improvement of their quality-of-life. It is perceptual sense.
The non-commercial sports organisation All-Russia Yun Chun Quan (Wing Chun) Federation appeals to you for financial support!
Our current problems include:
Absence of a permanent location for carrying out practical classes.
Absence of the means to carry out seminars for those desperately in need of information (particularly distant branches in rural areas of the country).
We are unable to pay instructurs, teachers and administrative workers.
We are unable to support and develop a program of work with children and teenagers in order to encourage them off the streets and away from drugs.
The Program has an exclusively charitable character.
Thank You for finding the time to peruse our appeal and we dearly hope for your Understanding and Collaboration (before the flower of spring becomes trampled or becomes a stone monument).
VALERIY VASILYEVICH MARTYNOV,
PRESIDENT of the ALL RUSSIA YUN CHUN QUAN (WING CHUN) FEDERATION, Leader of Zheleznaya Fleyta' Wing Chun Club, Master of the International category in Yun Chun Quan (Wing Chun) martial arts, Chin Woo Athletic Association Master (Foshan, China), Wushu Coach (Highest Category), Member of the Russian Theatre Workers' Union, Theatre and Film Artistic Director.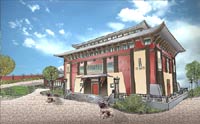 See also the plan of the All-Russia Centre.
We are waiting for our sponsors to resume the building process.