Official Wing Chun
A group of enthusiasts led by V.V. Martynov, an International Class Master and Highest Category Coach, were amazed by the Yun Chun Quan (Wing Chun) art. Having vast experience and seniority in its studies and, after analysing Wing Chun martial art's position in Russia, they decided to establish the All-Russian Sports and Social Federation (Social Organisation Registration Certificate No. N4161 dated 31st May 2002). The Memorandum of Association was approved on 16th April 2002.
Unlike other developing martial arts like Karate, Judo, Taikwondo, Aikido, Tai Chi etc., Wing Chun is not currently recognised by State Institutions as a type of sport and martial art. Such a status doesn't offer any legal protection for this form of martial arts. Some groups have even registered the wording Wing Chun' as a trade-mark; others try to make a business out of it without any qualification or moral rights: a third group mystify us by organising closed sects…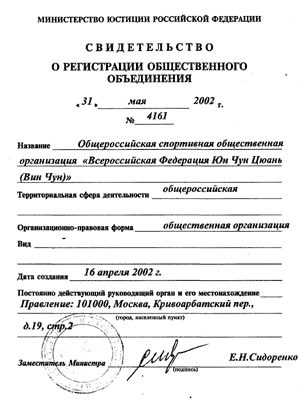 An open official approach would highlight the individuality of a real Masterhood, but state competitions based on approved rules would see the best victorious. State support would solve the problem of a lack of location for classes. An official sponsored position would attract Chinese, Vietnamese and European countries' Masters, where Wing Chun is recognised and well developed. This would open the flood-gates to international contacts of similar Wing Chun organisations from all over the world. Books, films, seminars: all of these would become available for All-Russia Wing Chun Federation members.
We look upon future collaboration with Wing Chun Masters based in Russia with great hope. Many of them consciously adhere to the official Wing Chun development position.
The creation of a Wing Chun learning centre, journeys to Wing Chun's origin (in China, Vietnam and other countries), the making of educative and art films: all of this can become reality with the support of our State as well as the people who are captivated by this type of martial art.
Sportsmen, simple students, businessmen, in fact men and women from any profession and/or occupation could strengthen their health, increase their self-esteem, gain self-defence skills and get to know the fascinating world of Wing Chun, so rich in the most modern and vital qualities for life. They are: understanding in relationships, development of absolute attention and reaction, precision in actions: study, business, family relations; all of them are keys to a successful and happy life.
The All-Russian Wing Chun Federation attracts honest, talented and mature personalities in order to make steps (in creative unity) in the development of Yun Chun Quan (Wing Chun), which translates as Eternal or Blooming Spring.
The building of a specialised Yun Chun Quan (Wing Chun) centre has already been started. In its spacious halls it will offer much more comfort in hosting lessons for Wing Chun students of all ages. The rules of competitions and qualification ranks are also currently being developed.