The 1st International Yun Chun Quan Tournament.
The story of our trip.
A WARRIOR'S WAY or Russians in China
told by Vasiliy Kruchkov, a participant in the 1st International Yun Chun Quan (Wing Chun)
Championship in China, August 2006.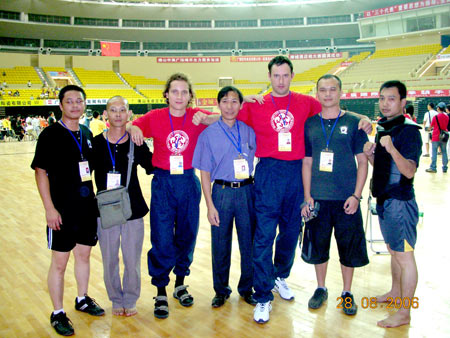 We found out about the forthcoming Championships quite late. There was very little time to prepare all the required documents so we had to do everything at the last minute. When we were leaving for China, we were not even sure that everything had been dispatched in time!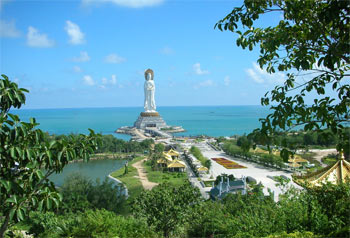 The flight was not an easy one. After having left Moscow at 20:15 Moscow time, we arrived in Guangzhou 24 hours later (at approximately 18:00 local time). We were very surprised by the local airport: a huge, beautiful and modern building. The climate was also unusual. It was quite hot, very humid and little noticeable difference between night and day temperatures. It felt like being in a sauna! Round-the-clock humidity. Only air conditioners could help. We arrived at our hotel, had a short sleep and then spent some time exploring the city on foot. Later we headed back to the hotel for our night sleep! It was 27th August.
On the morning of 28th August, we had to travel to Foshan because the competitions had an evening start. To make things even more difficult, we didn't know where the stadium was! We had left all addresses and phone numbers behind in Moscow. The find Wing Chun' story is worth telling as locals, not speaking any English, were bemused and had no idea what we were talking about. But, after several hours' effort, we found it.
We arrived at the stadium at 2.00 pm. It wasn't long before we were weighed and divided into groups. We were then sent to the hotel where all the other competitors were living. Hurray! We were allocated our own interpreters, who spoke English very well. Finally we got an opportunity to understand a little more about the competition's times and regulations. We were so tired after nearly 24 hours of flying, waking up early and hours searching for our destination, that we fell straight to sleep immediately after eating! Imagine this unforgettable picture of us Russians preparing for our competition! Even one hour before leaving for the stadium, several tired bodies lay sleeping on sofas in the hotel restaurant! But, despite all the trepidations and adventures, it happened! We were finally at the stadium ready for our performance.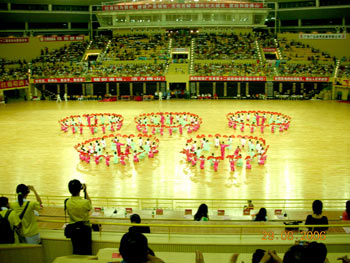 The stadium was very beautiful and modern. There were two 5m x 5m wooden stands located at the centre of the stadium. The bouts were to take place in circles, each measuring 3 metres in diameter. Competitors waited their turn in special lanes' leading straight to the ring. It must be said that the waiting process was quite exhausting as we had to spend several hours in a state of anxiety.
The competitions themselves were, in my view, very closely related to the Wing Chun martial arts forms. According to the rules, participants were forbidden from striking the opponent above the shoulder or lower then the waist. Considering that all competitors wore caps, helmets, protective vests and groin protectors, all bouts, with some minor exceptions, descended into pushing' the opponent outside the circle. Pushing, by the way, was also forbidden by competition rules. We were told that competitors were allowed thrust' their opponent out of the ring. Victory was awarded to the competitor who managed to thrust his opponent out of the ring three times or simply by an overall score tally.
We found the rules quite confusing. Every five minutes one of the organisers or interpreters would run over to us attempting to explain something to us. Ultimately we didn't actually manage to figure out whether or not we were allowed to hit with fists or with palms, or if strikes to the face were allowed or not. Originally it had been announced that we were not allowed hit the head at all. One of our team competitors, however, refrained from punching to the head and ended up losing his bout. This is how we understood the explanations! At the same, however, another competitor lost his bout as he punched the opponent's head and was penalised for his troubles. The truth of the rule lay apparently somewhere in the middle, but we missed it! As a result, we lost in the first round and played no part in the finals.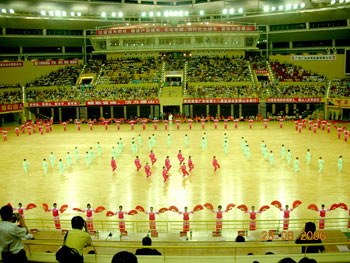 Putting aside the problems with rules interpretation and the shock of it all, we enjoyed the competition and were happy how it worked out. Between each performance we communicated a lot with other competitors. Everyone tried to show and teach us something. Everyone was very open and sincere.
The official opening ceremony took place on the second day. This entailed many people in multi-coloured clothes with sticks, swords and other accessories (including a bench!) who executed moves, performed forms and danced. Fans opened and closed with such a precise synchronicity that we longed to applaud. It turned out to be a wonderfully colourful and spectacular ceremony.
After the competitions, we had a few free days before our flight back home so we were able to meet some Wing Chun Masters. We drank tea with Pen Nan (the son of one of Foshan's Wing Chun pillars') and some of his students. We also spoke to Master Vu and other Masters from Malaysia and Singapore. Some people's manners and techniques were spotless, other's raised many questions. Overall, however, it was a sea of joy where we swapped contacts and shared a desire to continue developing and move forward.
Our trip to Hainan is also worth mentioning. We visited the amazingly beautiful Nanshan Buddhist Centre, took night trips in Peking and Foshan and availed of Chinese massage and hospitality. We were a little sad that we didn't get to see and enjoy more of this wonderful place! Hopefully we will get another chance in the future. We are left with great impressions from our trip.
Our primary target was achieved: our Russian team took part in the First International Yun Chun Quan Championship held in China (Foshan).