Yun Chun Quan Forum 17.05.2003
On 17th of May 2003 the First Russian Forum of the Yun Chun Quan (Wing Chun) Federation was opened with a greeting speech by its President, Martynov Valeriy Vasilyevich. More then 30 Federation members from various regions participated in the Forum.
The following reports were made:
1. Roman Gorelov, a professional Chinese interpreter, suggested a single common terminology for Wing Chun school competitors and students during classes. Mandarin (Patahua), the official Chinese language, would be the accepted base language. This would solve the problem of misunderstanding' and would settle differences in the interpretations of the names of drills, techniques and forms. This would also be the case with the Russian language, particularly with the use of basic poeticisms, vivid words and expressions. This would also serve to develop human qualities.
2. The Head Manager of the Department of Martial Arts Education, Korolev Nikolay Venyaminovich, noted the importance of an official Yun Chun Quan (Wing Chun) style in Russia, ultimately to be led by the All-Russia Federation. He also remarked that only high quality, tried-and-tested Wing Chun standards can become the basis for the development for other Russian schools and branches. The support of the Department of Sport enables students, who have successfully passed exams, to obtain a state diploma and to be rated as a Yun Chun Quan (Wing Chun) instructor for professional teaching in Russia's schools and higher education institutions.
3. Valeriy Pavlovskiy, an honoured member of the All-Russia Yun Chun Quan Federation, a representative of the Vin Suan Fat Za Quen family school, and a member of the Hanoi Wing Chun Club, spoke about the traditional Wing Chun school direction in Vietnam. He reiterated a certainty that, by merging and converging All-Russia Yun Chun Quan with the traditional aspirations of the Masters, a new boost to Russia's Wing Chun development will elevate it to a significantly new level.
4. Nguyen Van Vi, student of Le Kim Tkhan (the famous and much respected Wing Chun Kung Fu Master, Professor of Maths & Physics and also a Doctor) congratulated all of the Forum's participants on a bright and important beginning! On behalf of his teacher, he gave assurances that collaboration and support would continue in order to develop and improve the quality of the Yun Chun Quan (Wing Chun) school in Russia. He also promised to maintain and further develop direct contact links with Vietnamese Masters, carriers' of the ancient Wing Chun tradition. Le Kim Tkhan is one of the leaders in the Vietnamese Wing Chun Association based in Hanoi. His work is supported by Huan Vin Zang, the Sports President of the Olympic Committee.
5. Alexey Fedotov, an instructor with the Zheleznaya Fleyta' Wing Chun Club spoke about the Wing Chun school's Five animals' technique. He also highlighted the importance of Master Te Kong's school and its advantages over other Wing Chun forms, in particular, over the Hong Kong form. He also drew attention to the Wing Chun school's belonging' to the Shaolin Temple in China. 6. Joseph Szargut, Wing Chun Master of VIET-CHUN-DO KWIAT SLIWY POLSKA, submitted his application to join the Russian Wing Chun Quan (Wing Chun) Federation. This is a good sign, in recognition of our school's status and progressive development.
7. During one of the tea breaks, lively discussions on vital issues took place, for example: there is a great need to host a seminar on the 6', 5'and 4' chi Wing Chun forms.
8. Valeriy Martynov, the President of the Federation, Master of the International Category and a member of the Chin Vu Association of Foshan, China spoke about the Federation's plans and demonstrated, by means of a scale model of the Russian Wing Chun Centre building, how and where work is planned. In addition, he spoke of future seminars with Yun Chun Quan (Wing Chun) Masters. Finally we conclude that this modest event, by international standards, is a sign of a genuine wish to continue Wing Chun's human nature development. It is a sign of the will to maintain social ecology, social culture and to develop physically, emotionally, psychologically and spiritually. By continually perfecting oneself, you show a belief in your Motherland and its supporting nature!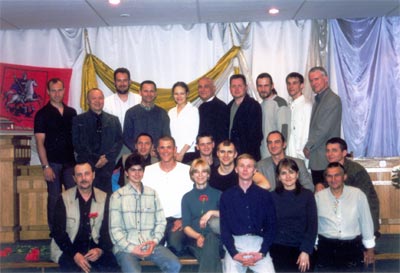 Yun Chun Quan classes are a joy of life and are a connection to the origin of the ancient traditions and ETERNAL SPRING!