2nd Chinese International Sparring Tournament
9th-11th of November 2008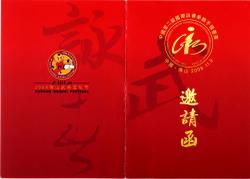 The Chinese Wushu Association and the people's district of Foshan City will jointly hold the 2nd Chinese International Wing Chun Sticking Hands' Sparring Tournament. The tournament will be held in the Linn Minchu Sports Stadium from 9th to 11th of November 2008.
Wing Chun Amateurs from Singapore, Korea, Malaysia, England, Germany, Russia, Canada, USA, France, Australia, Switzerland, Denmark, Mauritius, Turkey, RSA and other countries, as well as from Hong Kong, Macao and other parts of China will be invited to participate in this tournament.
It will be a forum of the world's Wing Chun elite! It will also allow you to demonstrate your skills. Through friendship and communication with other participants, international relations will benefit and you will earn the chance to win awards and prizes. We hope that this tournament will provide the opportunity to exchange knowledge between Wing Chun followers from all over the world and become a bridge to establishing cultural connections between all Wushu fans.
By this we invite You to take part in this tournament! Eastern inhabitants welcome you with open arms. Welcome!
The All-Russia Yun Chun Quan (Wing Chun) Federation has 10 invites. Those willing to participate, please call: 8–905–740-222.
President of the Federation Martynov V.V.
Appendices: