Master Te Kong: Chan Van Fung and his students
Chan Van Fung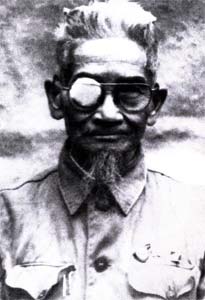 The Vietnemese Master Chan Van Fung (1900-1987) began training under the leadership of Nguyen Te Kong in 1936.
During his young years he studied in various martial arts schools and learnt from Chinese and Vietnamese Masters. He met Te Kong, who was a specialist in Shon Dong Bak Fai', Nam Sa' and Tkheulam' (Shaolin). In the Hanoi fighters' circles Chan Van Fung was known by the nick name One-eyed Dragon'. His friend, Vyet Hiong, introduced him to Nguyen Te Kong. Fung recognised the high class Master in Te Kong straight away and began practicing with him. Through much and diligent training, Chan Van Fung was perfecting himself very quickly. His teacher appreciated his hard work, his good personality and his fighting talent and appointed him as a senior student in his school. But the special position didn't affect Fung's personality: he remained friendly and got on well with everybody. After Nguyen Te Kong left for Saigon, Chan Van Fung stayed in Hanoi and, with his teacher's permission, opened his own Vin Chun Kuen school, where he taught until the end of his days. During the decades of teaching Chan Van Fung, he was always a good example for his students. He always remained a man full of vibrancy, spiritually young and served others without sparing himself. His classes didn't stop during the war with the USA when Hanoi suffered heavy bombing.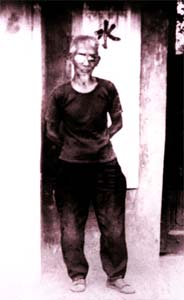 He treated his students like his own children, supporting them and developing their talents. Master Fung lived during a very hard time and experienced a lot of troubles. Out of his seven kids, six of them died during the pox epidemic. And his only surviving daughter was eventually outlived by her parents. But, despite these blows, he didn't crack up and get angry with the world. He overcame all of life's misfortunes. His constant and unwavering support was Buddhism and Vin Chun Kuen. During his long life he helped many people and brought up many talented students, all deserving of being able to carry on the ancient traditions.
Even at the age of 87, the Master Fung didn't stop teaching classes and continued to practice in pairs with his students. At every lesson he trained a dozen young students and his strength never decreased. No one could out-perform his quality of exercises and techniques.
Chan Van Fung's life ended in November 1987, but his students continued his business.
Chan Van Fung's students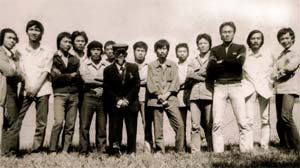 (in the photo: Chan Van Fung and his students).
While in a Hanoi City Park, Master Fung once noticed a thin and ill-looking chap. That chap told him that he used to work as a glass-blower and, because of that, was terminally ill with lung silicosis. Doctors gave up on treating him. Fund offered this guy his help. But a lot depended on the chap himself. Master Fung taught him the Chi-Kong (from Chinese Qigong') breathing exercise, which had to be performed as often as possible. He also put together a recipe of many herbs used in Eastern medicine. From the health-improving exercises Chin Kuok Din (this was the young guy's name), he moved on to studying Vin Chun Kuen techniques. At the same time, led by Fung, he learned Eastern medicine and Qigong.
He later achieved great success in Vin Chun Kuen and was talked about in Masters' circles of Hanoi as a very skilful and subtle warrior. Despite his lack of height and weight (only 40kg), Chin Kuok Ding performing in bouts against other schools' representatives and always won.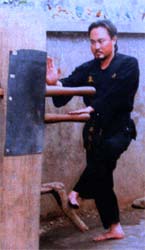 (in the photo: Tkhai Ba Sao).
Chin Kuok Din once met a strong and husky man, called Tkhai Ba Sao, who practiced Gun Fu (hard style). Tkhai Ba Sao was famous for crushing bricks and piles of tiles with great ease using his fists. But even with his high level of skill and physical strength, he couldn't beat Din, who was ahead of his larger and stronger opponent in all departments, never letting him put power into his strikes. Finally and short of breath, the husky was defeated and Din sat on top of him. Having lost the bout Tkhai Ba Sao showed great interest in that art, rather than getting angry. Chin Kuok Din introduced him to Chan Van Fung. Tkhai Bai Sao began to learn Vin Chun Kuen led from his teacher. Tkhai Bai Sao is now a great specialist in Vin Chun Kuen and has a great technique and amazing fighting skills. He is an official successor of the style in the line of Chan Van Fung and leads his own Vin Chun Kuen school in Hanoi.
(in the photo: Do Tuan).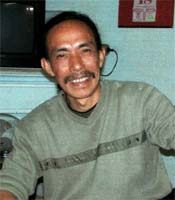 After the war with the Americans, one of Chan Van Fung's students was Do Tuan, a retired solder. During the war he was wounded many times but, by studying Vin Chun Kuen, he always managed to overcome his illnesses and became a real Master of the style. Do Tuan is well known in Hanoi as an artist, a poet and acupuncturist. He teaches Vin Chun Kuen to the younger generation. In his garden, at the Red River bank, there is a wooden dummy. There he holds his classes.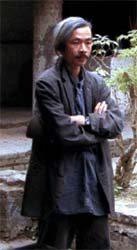 (in the photo: Mai An Chau).
Mai An Chau – is well known and respected in Hanoi and Saigon. He is a Vin Chun Kuen mentor. He began studying the style led by Master Tan. Tan was a student of Nguyen Te Kong's student, Tyen. After eight years of study, Mai An Chau learned everything that the mentor Tan could offer him. Seeing his student's desire to perfect even further, Tan introduced him to the legendary One-eyed Dragon', Chan Van Fung. Master Fung immediately recognised Chau's extraordinary nature and took him to be his student. In a short space of exercises with Master Chan Van Fung, Chau vastly improved his achievements. His great technique was complemented by a deep Vin Chun Kuen quality and nature. Working with the wooden dummy, Chau could break its arms with short hand moves only. The dummy, by the way, was made of hard boxwood.
Chau was once visited by a Shaolin Gun Fu Master and a specialist of the Vin Chun Kuen style. This person lived in China for a long time and graduated from the Shaolin Monastery School in the Henan province. Having spoken to Mai An Chau, the guest suggested they try kuai ti zo' together (i.e., free hands spinning with partners' hands not losing connection with each other). It is one of the highest levels in Vin Chun Kuen and, visually, does not differ much from sparring.
After practicing with Chau, the guest was concerned by his loss and an unusual variation of Vin Chun. He adopted a harder, pushing style, which didn't help against Chau. The guest said that if he didn't know Mai An Chau's good name and reputation, he would have deduced that he was being tricked and that it wasn't actually Vin Chun.
Master Mai An Chau has many friends in and outside Vietnam. He is often invited to other schools for consultation and joint-classes. A video film was recorded in the School of Wing Chun Masters, Saigon, 1992. All the Masters in attendance were followers of Nam An, who now lives and teaches in Canada. Mai An Chan demonstrated the Tu Dao Quen' form in this film.
Willing to learn Vin Chun Kuen in more depth, Mai An Chau studied the Chi-Kong psycho-energetic system and devoted a lot of time searching for a decent Buddhist mentor. An amazing and well known person, from outside Vietnam, became his teacher. It was the Buddhist monk Tkhyk Tkhan Tyn, who lived for more than 30 years in isolation in the mountains. Having reached the level of Bodhisattva, the monk returned to the people. He settled in a mountain cave on the banks of a lake. There was a village nearby. All Vietnamese Buddhist followers respect the hermit as a saint. Mai An Chau spent many months with his teacher practicing tkhien' Buddhist contemplation. Whenever the opportunity arises, he visits his mentor, travelling from Hanoi to the mountains.
Despite his vast experience and recognition by other Vin Chun Kuen Masters, Mai An Chau did not open a big school. Like his teacher, Master Chan Van Fung, he holds classes with a small group of students in his own garden, keeping to the old tradition of passing Wing Chun knowledge down through the family. Mai An Chau brought to the Master Chan Van Fung to meet his relative and friend Nguyen Hong Tu. As work was taking up most of Tu's time, he asked the teacher to tell him how to learn and understand Gun Fu quicker. Fung asked Tu to repeat only one fundamental exercise of Vin Chun Kuen, called spinning on the feet'. Nguyen Hong Tu practiced this exercise over the course of the year, both at home and at lessons. He was trying to achieve a precise yet difficult technique execution, which was based not only on weight transfers but also, to a greater degree, on fast filling in and emptying' of the whole body in close quarters combat. From time to time Chan Van Fung and Mai An Chau used to correct Tu's practice. Gradually the teacher Fung began to pay more attention to the junior student but not before he was totally satisfied that Tu was serious and persevering.
Nguyen Hong Tu once said:
"They say that, in his younger years, Master Fung was pugnacious and, when protecting his life in troubled moments, was known to have killed attackers. When he met Nguyen Te Kong he was a thirty-six years old with the reputation of an experienced fighter. After Fung met Te Kong and began practicing with him, his personality began changing. When I met Fung (already an old teacher), he was a very friendly person. That shine of an eye and amazing spiritual energy emanating from him displayed him as a person of amazing will and strong nature. He has lived a hard and dangerous life.
Nguyen Hong Tu passed his first task as a teacher and moved to the other elements of the system. Using the exercise spinning on the feet' (transferring energy to the hands) against the Master Fung, I immediately fell into the vacuum created by his hands! Soon I was straining my muscles in an effort to restrain his actions. I was instantly losing balance backwards and was flung back off Fung's blows. In this way he taught me psychological and physical balance, precise balance of hand power, soft' strength and a refined control of my actions. He made me sway like a wobbly toy: left, right, forwards, backwards, until I felt a thin edge between these opposites and put them all into the single whole. Once I was observing Chan Van Fung working with a wooden dummy, which is a pole two or three times bigger then himself. He was making strikes fast and with such strength, but the pole didn't move, despite the fact it wasn't tightly fixed at its base. All the strength of the blows went into the middle of the pole so it droned and vibrated from each strike. In a duel this would destroy an opponent's internal organs even if there are no visible external damages.
based on www.tekong.net